B2B Lead Generation Software
Identify the individuals on your website and turn them into leads. Find the employees from the companies on your website and discover which key decision maker you should be talking to.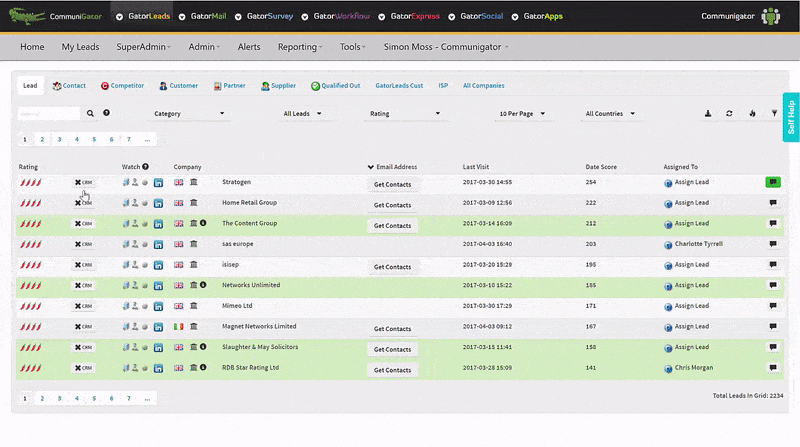 Find your sales-ready leads first
Lead generation software with a built-in lead scoring dashboard.
Rank your hottest leads daily, weekly, monthly or by a custom date.
See the total score your leads have accrued since their first web visit.
Identify the individuals from the companies on your website
Access employee names & job titles of the companies on your website.
Contact key decision makers who have shown buying interest.
Get in touch immediately with their email address.
Track every website movement of your business leads
Know what your identified leads are looking at on your website & when.
Track individuals, as well as company leads, with our PURL functionality.
Discover how interested your leads are with our page scoring methodology.
Reveal sales leads from all paid for channels
See which campaigns your leads come from with our UTM tracker.
Detect previously unidentifiable paid channels such as PPC & social media.
Pursue paid for channels and increase your marketing
What is Lead Generation Software?
Lead generation software, otherwise known as website lead generation, helps you generate leads online. Using IP lookup, you can discover who is visiting your website and convert anonymous visitors to prospects and leads.
Why you need business lead generation?
With an effective lead generation tool such as ours, what you can find out with B2B lead generation isn't just who the companies on your website are. You can also find out who the individuals of that company are too. This allows you to get in contact with leads who are already showing an interest, speed up your sales pipeline and make the most of your website.
With most companies using a tool such as online lead generation, including your competitors, it's never been clearer why you need business lead generation. If you want to get leads & generate more sales opportunities, automated lead generation is for you.
How B2B lead generation works?
By placing a tracking code on your website, lead generation software can identify website visitors by their IP address. You'll then have a platform that lists who your identified web visitors are along with their contact details, so you can get in touch and start building a sales relationship straight away.