B2B Email Marketing Software
Use email marketing software to create, collect, test and track individuals movements with your emails. Create email marketing campaigns that are effortless to implement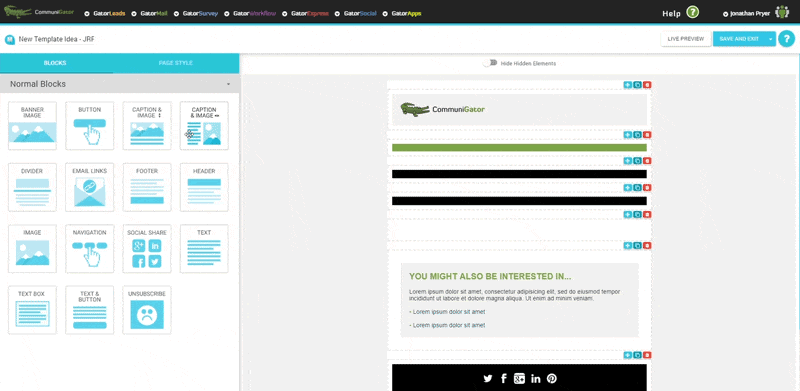 An intuitive email marketing platform
Simple interface where no HTML experience is required.
Make your email vision a reality with our drag & drop editor.
Visualise entire email journeys with our workflow tool.
Engage with your email contacts at every stage of the pipeline
Send the right content at the right time to the right person.
Create dynamic content based on your audiences' preferences.
Segment, test, collect and report on every campaign from your CRM.
CommuniGator Email Marketing Features & Benefits
Improve your email marketing results
Send specific email campaigns based on your CRM data fields.
Include individual & bulk purchased data in your email campaigns.
Abide by less restrictive UK email marketing laws.
Email marketing software that automates your execution
Use the CommuniGator email marketing platform to generate and nurture new business opportunities for your sales team.
With CRM integration and automation, email marketing can form the backbone of your marketing pipeline.
What is email marketing?
Email marketing is simply sending a targeted marketing message via email. How complex, dynamic or automated you want the message to be is defined by you. The more dynamic and tailored your message, the higher your marketing success and click rates will be.
How B2B email marketing software works?
If you want to create multiple dynamic email campaigns, you need email campaign software that understands what you are trying to achieve. From creating a professional look to adding multiple elements with an easy drag and drop editor. All in a responsive design template.
What you can achieve with email campaign management?
Email marketing best practice says you should send the right content at the right time. With our email campaign services, you can create dynamic content based on your audience and their individual movements. Keep them in an email campaign until they are sales-ready.